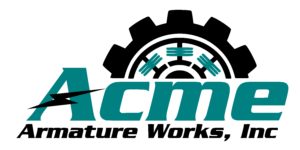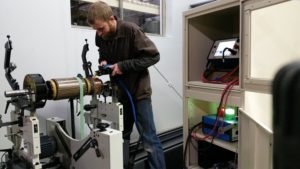 By Jeff Pederson – Pedal Down Promotions
(PEDAL DOWN PROMOTIONS) May 15, 2017 – Acme Armature Works Inc. will celebrate its grand opening with a special open house and ribbon cutting event Thursday, June 1, at its facility at 2727 North 21st St. in Sheboygan.
The open house, which will run from 11 a.m. to 2 p.m., will also feature a Sheboygan County Chamber of Commerce ribbon cutting ceremony set for 12:10 p.m.
The drop-in event format will give attendees an opportunity to view the Acme Armature facility and interact with staff members in a comfortable, informal setting.
"People will be able to roam through the shop and check out the machinery at their leisure," Acme Armature Works Inc. owner Chad Bahrs said. "Our employees will also be spread out throughout  the shop to answer questions and offer additional insight."
A complimentary lunch menu comprised of brats, burgers, potato salad, soda and water will be available throughout the open house.
In September 2016, Bahrs purchased Sheboygan Armature Works from Dale and Dave Kautzer. Bahrs has inherited a business with a long and successful history dating back to 1951, when Sheboygan Armature Works Inc. opened in a small downtown Sheboygan shop before moving to its current location at 2727 North 21st St. in Sheboygan in 1971.
Acme Armature Works Inc. services all types of electric motors, spindles, servo motors, and electro-mechanical devices for industrial, commercial and agricultural customers.
It also features additional value-added services such as an in-house machine shop, computerized precision dynamic balancing, vibration analysis, predictive/preventative maintenance, welding and light fabricating.
"My goal is to grow the business and take it to the next level by providing a wider range of services in-house," Bahrs said. "I've added quite a bit of new equipment. We now have a full machine shop and welding department in-house, which allows us to provide fast turnaround times and maintain competitive pricing. Now we can do more in our shop, rather than having to outsource certain types of work.
"I hope to expose the Acme name to maintenance workers, purchasing agents and small business owners," he said. "Our main goal is get commercial and industrial companies familiar with what we do. The open house should be a nice way to connect with a few more people as we work toward our goal of growing the business."
Acme Armature Works features several bonus offerings for customers, including 24-hour emergency services, free pickup and delivery, same-day repairs and no evaluation charges if items are recycled onsite. Other key features are modern computerized repair reports, job documentation and tracking.
For more information on Acme Armature Works Inc., email [email protected], call the 24-hour service line at 920-452-3389 or visit www.acmearmature.com.