Rewinding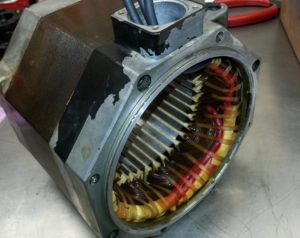 All windings are rewound using the best industry leading materials, and come standard with a 2-year warranty.
Class H Nomex Insulation
Inverter duty wire – Standard
Dolph's class R polyester varnish
Computerized winding verification
Winding encapsulation available
2-year warranty on rewinds

Acme Armature Works is a full service repair facility. Located in Sheboygan, Wisconsin, we provide rewinding services on all makes and models of motors, pumps, brakes, welders, generators and more!
Single phase motors
Three phase motors
Generators
Welders
DC motors
Submersible pumps
Linear induction motors
Dings, stearns, reuland,and all other brakes
Slip-Ring motors
Eddy current drives/motors
Encapsulating
Coils and insulation systems are completely impregnated and sealed within heat cured high temperature epoxy resin that was specially developed for Acme Armature Works, by a leading ISO-9001 certified epoxy manufacturer.  This special resin has been revised and perfected over the years. It offers excellent thermal conductivity, toughness in extreme conditions, and flexibility to allow for expansion and contraction of the windings. During the vacuum applied process,  the resin penetrates all voids, and the windings are totally sealed and void free.
Reduction of Winding Failures
Encapsulation reduces winding failures due to contamination from water, coolant, oil, metal chips, foundry dust, metal dust from shot peening, media blasting, wheelabrators. chemicals/corrosion, and airborne particles such as carbon dust from brush wear.
Contact Acme Armature Works for more information on our Rewinding and Encapsulating services.