By Jeff Pederson – Pedal Down Promotion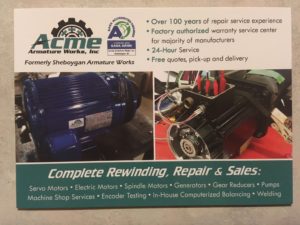 Acme Armature Works Inc. of Sheboygan, Wis. is set to make its first-ever appearance at the Sheboygan County Chamber of Commerce Business Expo Monday, April 16 at the Blue Harbor Conference Center in Sheboygan.
The popular business expo event, which runs from 3-7 p.m., will showcase many of the area's top companies in a wide variety of fields and areas of expertise. The biennial event drew over 500 people to the Blue Harbor Conference Center in 2016.
The Acme Armature Works Inc. booth will include electric and servo motor displays, as well as samples of services and repair work, along with an array of promotional materials.
"We will have an electric motor on display and several samples of what we do related to servo motor service and repairs," Acme Armature Works Inc. Owner Chad Bahrs said. "We will have plenty of brochures and flyers showcasing our various repair services.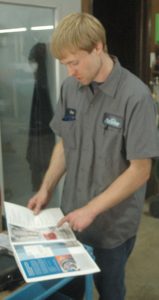 "This is the first time we've done a show like this, so I am looking forward to the opportunity to get out and showcase what we do and possibly meet some new people that are looking for a place to take their electric and servo motors for repairs," he said. "It should be a lot of fun."
"We have only been around for a year and half as Acme Armature Works, so there are a lot of people that are not familiar with us yet," Bahrs said. "It is always nice to meet people in person and build up a relationship. We are trying to spread the word about what we do and the type of shop we run, and this is a great opportunity for us to do that."
Since joining the Sheboygan County Chamber of Commerce last year, Bahrs has been impressed with the level of support he has received as a new business owner.
"The chamber has been great to work with," Bahrs said. "They helped us with our open house and ribbon cutting last June and have been very supportive ever since we joined. I expect the business expo will be a first-class event, just like everything else the chamber does in the area."
For more information or to request service with Acme Armature Works Inc., email [email protected], call the 24-hour service line at 920-452-3389 or visit  www.acmearmature.com.