By Jeff Pederson – Pedal Down Promotions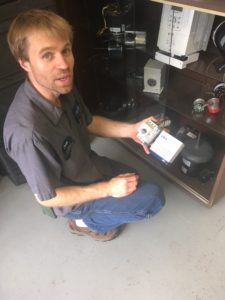 In an effort to stay on the cutting edge of the latest technology related to all aspects of electric motor operation, maintenance and repair, Acme Armature Works Inc. owner Chad Bahrs recently participated in a variable frequency drive training course at LSIS USA corporate headquarters in Vernon Hills, Ill. July 10-12.
The three-day certified startup training course provided Bahrs with in-depth instruction on the LSIS C100, S100, iS7 and H100 variable frequency drives, which are sold at Acme Armature Works Inc. headquarters in Sheboygan, Wis.
The course covered a variety of variable frequency drive topics, including parameter tables, installation, power wiring, control wiring, keypad operation, startup programming, control methods, start/stop and reference controls and local/remove and HOA setup.
"Variable frequency drives are important because they vary the speed of an electric motor by controlling the voltage supply and helping to regulate soft starts, which allows a motor to speed up slowly and smoothly," Bahr said. "The class provided a lot of good information about how to program the variable frequency drives properly. It also went over the proper application and the various capabilities of the different types of drives.
"There was a lot to go over because LSIS USA has a full line of variable frequency drives for all types of uses from high performance factory use all the way down to drives used for HVAC units, manual motor starters and low-cost machines," he said. "LSIS USA is a key supplier for us at Acme and we always stock a full line of their variable frequency drives for our customers."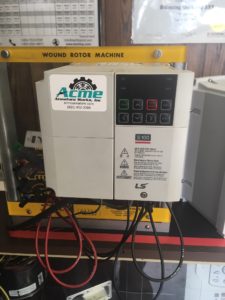 By attending the course and passing a written test, Bahrs was able to obtain an additional two-year extended warranty on all LSIS variable frequency drives sold at Acme Armature Works.
"While LSIS variable frequency drives already come with a two-year standard warranty, the course was very beneficial because we were able to get an additional two-year warranty, which is actually double the industry standard," Bahrs said. "It is nice to be able to offer that extra two-year warranty to our Acme customers."
From 1974 to 2004, LSIS USA, formerly known as LG Industrial Systems, operated in Asia and the Middle East in a wide range of industries. In 2005, the company was renamed to LSIS under the LS Group of companies.
LSIS is now headquartered 35 miles south of Seoul, South Korea and employs more than 3,400 people globally, operates eight manufacturing facilities and approaching $3 billion in U.S. domestic sales with 11 branch offices outside of South Korea.
LSIS USA was incorporated in November 2012 with a core mission of focusing on the development of low and medium voltage variable frequency drives, as well as electrical power components, including contractors, relays, manual motor starters and air and vacuum circuit breakers.
For more information about LSIS USA's line of variable frequency drives or to request service with Acme Armature Works Inc., email [email protected], call the 24-hour service line at 920-452-3389 or visit  www.acmearmature.com.