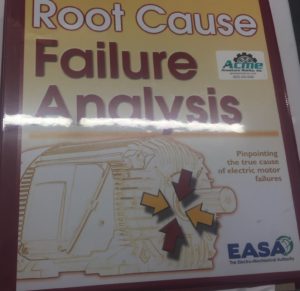 By Jeff Pederson – Pedal Down Promotions
Restoring a malfunctioning electric motor to working condition while understanding the root cause of the failure are essential components of the repair process carried out each day at Acme Armature Works Inc. in Sheboygan, Wis.
Acme Armature Works Inc. Owner Chad Bahrs places a high standard on not only repairing each motor, but also diving down into the deep complexities of each system to gain a clear picture of the reason for each failure.
That is why Bahrs and Acme Armature Works Inc. Repair Technician Shane Krieski attended an Electrical Apparatus Service Association (EASA) Root Cause Failure Analysis Certification course in Minneapolis, Minn. this past April.
The full-day course placed a heavy emphasis on troubleshooting a wide range of electric motor failure scenarios to help reduce the length of the repair process and aid in communicating with customers to avoid repeated failures in the future.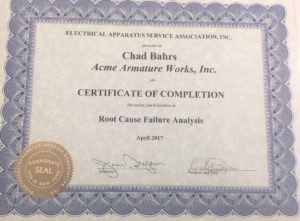 "You can rebuild a motor or electro-mechanical device and get it back to working order without really understanding why it failed in the first place," Bahrs said. "You are missing out on a big part of the process if you don't examine the root cause. For us, it is very important to get a handle on why something failed so we can reduce downtime for customers, who are depending on these machines for their businesses to be profitable."
The course covered root cause methodology, while examining the details of bearing, shaft, stator, rotor, mechanical, DC motor and accessory failures.
No matter what type of failure, Bahrs says reporting the cause of the malfunction to customers is standard practice at Acme Armature Works Inc.
"Downtime can really hurt a business and we want to cut into that as much as we can for our customers," he said. "Most of the repair work we get are rush jobs and our customers depend on us to get a motor up and running as soon as possible, so they can meet their demand. One of the ways to potentially reduce downtown is to understand the root cause and then report that root cause to our customers, who can in turn note that for the future and possible do some preventative maintenance to keep it from happening over and over."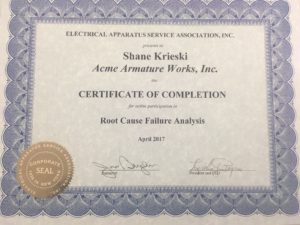 Bahrs says his customers are typically thankful to learn of the root cause of motor failures.
"Our customer like the fact that we go that extra mile and communicate the root cause of failure to them for each job," he said. "They are very appreciative of the explanation we give them because in many cases it helps them to plan and hopefully reduces the potential of having the same repeated failure."
For more information or to request service with Acme Armature Works Inc,, email [email protected], call the 24-hour service line at 920-452-3389 or visit  www.acmearmature.com.