Acme Armature Works Inc. has an immediate opening for a full-time, flexible first-shift electric
motor repair technician.
Regular job duties include repairing, positioning, installing, connecting and testing a variety of electrical and mechanical systems, in addition to troubleshooting and repairing industrial machinery (gear reducers, submersible and inline pumps, etc.) and associated equipment in our repair shop, or in the field in a customer's manufacturing environment.
Main Duties and Responsibilities:
·         Perform minor and major repair of all electric motors and related equipment
·         Perform preventative maintenance procedures on equipment, including but not limited to, PM's vibration analysis, balancing, shaft alignment, inspecting belts, checking fluid levels, replacing filters, greasing bearings etc. on a scheduled basis.
·         Repair or replace broken parts
·         Diagnose and troubleshoots electrical circuits
·         Cross train and work closely with team members
·         Provide flexibility in shift coverage
·         Must be willing to take calls off shift on a rotating basis, we offer 24-hr service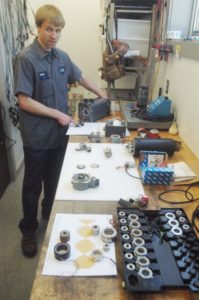 Job Requirements:
·       A minimum of 2 years electric motor repair, rewind, electro-mechanical or industrial maintenance experience or an associate degree in electricity or electro-mechanics preferred.
·       Industrial mechanical and electrical experience preferred.
Knowledge, Skills and Abilities:
·      Good working knowledge in the use of various tools equipment and test equipment, including multimeters, insulation resistance meters, electric motor analyzers (hipot and surge tester), oscilloscope, measuring devices (micrometers, precision indicators), equipment and basic computer knowledge.
·      Good math/measuring, communication, mechanical and organizational skills.
·      Ability to work in a team environment or independently, read and follow detailed instructions, think and react quickly to troubleshoot daily issues.
Additional Skills Desired:
·      Knowledge of OSHA and safe work practices
·      Knowledge of current NEC
·      Knowledge of electrical test equipment
·      Knowledge/training on dynamic balancing and vibration analysis equipment
·      Servo motors, drives, spindles, PLCs
Physical Requirements
·      Able to lift up to 55 pounds
·      Ability to stand and walk for full shift
Acme Armature Works Inc. is a fast-growing, clean, well-organized, electro-mechanical motor repair shop located at 2727 North 21st St. in Sheboygan, Wisconsin.
Interested candidates are invited to contact Chad Bahrs via email at [email protected], by phone 920-452-3389 or by visiting www.acmearmature.com