By Jeff Pederson-Pedal Down Promotions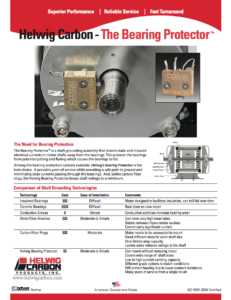 Acme Armature Works Inc. in Sheboygan, Wis. is always striving to provide its customers with the best possible service and top-notch products to extend the life of their electric motors.
A significant portion of Acme's commitment to quality extends from its partnership with Helwig Carbon Products Inc. of Milwaukee, Wis., which supplies carbon bearing protectors for a wide range of Acme's electric and servo motor repair projects.
Since premature bearing failure serves as a major cause of electric motor downtime and costly repairs, Acme Armature Works Inc. Owner Chad Bahrs relies on Helwig Carbon Products bearing protection kits to provide his customers with a highly effective method of motor shaft grounding.
"We provide Helwig Carbon Products carbon bearing protectors as an option to install on motors that are brought into our shop," Acme Armature Works Inc. Owner Chad Bahrs said. "Variable frequency drives used on AC and DC motors produce induced electrical currents on the motor shaft. The current seeks the path of least resistance to ground, which is typically through the motor bearings. These current pulses often build up and spark through the bearings, which in turn damages them causing excessive noise, vibration and premature failure.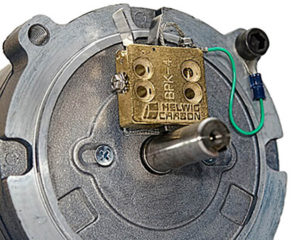 "The carbon bearing protectors protect against bearing damage when used on variable frequency drive motors and motors with low-speed drives," he said. "Helwig Carbon Products uses carbon brush technology in their kits, which effectively divert induced electrical currents away from the bearings, protecting them from damage and failure. This is a very beneficial service that I believe is highly valuable to our customers because it can go a long way in extending the life of a motor."
The advantages of using Helwig Carbon Products carbon bearing protectors include:
Longevity – will typically outlast the unit it is installed on.
Most effective technology proven to minimize shaft volute and damaging currents.
Provides lowest resistance path to ground.
Low to high current carrying capacity.
Stock kits fit most motors and multiple shaft sizes.
Easy to install and maintain.
Numerous options for wide variety of conditions.
Internal mount options avoid exposure to outside and contaminated environments.
According to Bahrs, Helwig Carbon Products carbon bearing protection kits provide the ultimate level of reliability and efficiency.
"The carbon bearing protectors are very popular in the HVAC market," Bahrs said. "The motors in HVAC units typically damage very quickly. It can be so bad that sometimes the life of motor could be reduced by half or more. The carbon bearing protectors really work wonders with these units. We've been using them here for years and we will continue to because I believe in them fully. To me, they are definitely the industry's best shaft grounding solution."
For more information or to request service with Acme Armature Works Inc., email [email protected], call the 24-hour service line at 920-452-3389 or visit  www.acmearmature.com.