By Jeff Pederson-Pedal Down Promotions
Since taking ownership of Sheboygan Armature Works from Dale and Dave Kautzer and launching Acme Armature Works Inc. last September, the past 12 months have been filled with a whirlwind of activity for owner Chad Bahrs and his skilled staff of electro-mechanical motor repair specialists.
One of Bahrs' top priorities in the first year involved upgrading the shop with new equipment to make Acme Armature Works Inc. more self-sufficient in all phases of electric and servo motor repair.
"We've been able to add quite a bit of new equipment, which has really helped to grow the business," Bahrs said. "We are now able to do more services here in-house, which has allowed us to have faster turnaround times for repair jobs."
In addition, Acme Armature Works staff members expanded their technical skills by attaining PDTA (Power Transmission Distributors Association) membership and EASA (Electrical Apparatus Service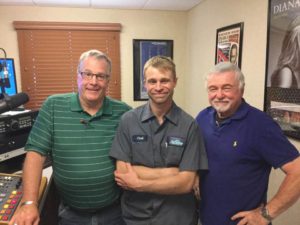 Association) accreditation over the course of the past year. The shop also earned Recommended Practice for the Repair of Rotating Electrical Apparatus (ANSI/EASA AR100-2015) certification in 2017.
"Training and accreditation is big for us because it prepares us to handle a wide range of jobs and learn the skills needed to complete those jobs properly and efficiently," Bahrs said. "That is something we will continue to do this year and moving forward."
An open house and Sheboygan County Chamber of Commerce ribbon cutting event on June 1 served as an official welcome to the community for Bahrs and his staff, who conducted tours of the upgraded Acme shop for current and prospective customers.
"It was great to meet with so many people at our open house and ribbon cutting," Bahrs said. "It was a highlight of the year for sure. We received a lot of nice comments as well, which is great for building a good reputation in the community."
In July, Bahrs was featured as a guest on The Biz Connection Radio Show, which gave him an opportunity to share his story of business ownership with a statewide listening audience.
Bahrs also finalized a partnership with Outstrip Equipment to build parts for the company's Eon, Neo and Helix fitness machines, which will be further revealed in the near future.
Bahrs has been pleased with the support Acme Armature Works Inc. has received in its first year and looks forward to the road ahead.
"It has been a great first year," Bahrs said. "Our customers have been great and we've added some new ones as well, which is exciting. Our goal is to continue to work hard at our craft and provide top-notch customer service. We are definitely looking forward to year two and beyond."
For more information or to request service with Acme Armature Works Inc., email [email protected], call the 24-hour service line at 920-452-3389 or visit  www.acmearmature.com.