By Jeff Pederson – Pedal Down Promotions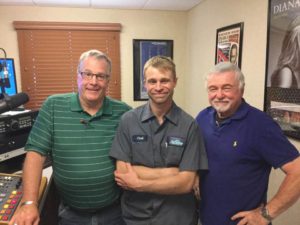 Acme Armature Works Inc. owner Chad Bahrs took time out of his typical work day to join hosts Jim Rosetti and Ron Nielsen as a guest on The Biz Connection Radio Show this week.
Bahrs discussed his background in the electric and servo motor repair field, as well as his longstanding entrepreneurial ambitions to open his own business.
He also explained the various upgrades he has made to the shop since purchasing the former Sheboygan Armature Works business last September, including significant equipment updates that allow Acme Armature Works to stay on top of the ever-changing cycle of technology.
The episode of The Biz Connection Radio Show featuring Bahrs will air this Saturday, July 15 at 8 a.m. on 1420 AM "The Breeze" in Plymouth, 1 p.m. on 1330 AM WHBL in Sheboygan. It will also air on Sunday, July 16 at 2 p.m. on 1340 AM and 98.7 FM WJYI in Milwaukee.
After the show airs this weekend, it can also be accessed via podcast by visiting The Biz Connection website www.bizconnectionwi.com.
Starting Monday, July 17, you will also be able to find the show on the Acme Armature Works website www.acmearmature.com or on iTunes at http://bizconnection.libsyn.com.